These are some pictures I took at various times back like 15 years ago of my work areas that displayed my paganism and Wiccan self for all to see, while not being blatant in someone's faces.  Enjoy.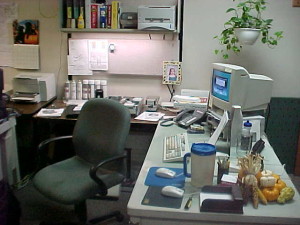 This was my work space.  You can note that I have the plant up in the upper right corner, and the holiday display on my desk at the lower right.  The picture in the center is my daughter, and yes, at this point I smoked.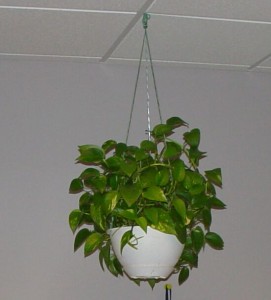 My plant, the pathos.  This is an older version of the pictured plant.  It's dead now, but I loved it.
This is my holiday harvest display.  I had it on my desk for almost a month, celebrating the harvest of Samhain and American Thanksgiving.  None of it was bad when I finally got rid of it.  There's a wooden bowl underneath the middle pumpkin.